FRANZ BECKENBAUER THE LEGEND
Franz Beckenbauer is without a shadow of doubt a legend of the game mainly due to his achievements as a professional footballer. 'Der Kaiser' as he's fondly called is widely regarded by many as the best defender to ever play the round leather game. Franz Beckenbauer is credited for the modern sweeper role, which was known as libero in the 70s. He started the trend of defensive players moving the ball out of defence and towards the opposition. Franz Beckenbauer was a visionary both as a player and as a manager.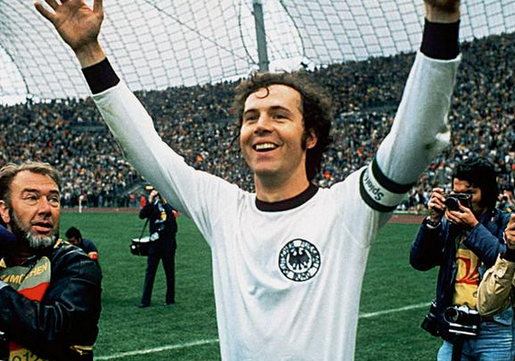 Der Kaiser played for just three clubs professionally during his career. He spent the best and longest part of his football career with German football giants Bayern Munich and also played for Hamburg and New York Cosmos. Franz Beckenbauer spent two separate spells with New York Cosmos in the United States of America. His Bayern Munich career covered majority of his international career with West Germany. Franz Beckenbauer scored 14 times in 103 caps for West Germany between 1965 and 1977, while he was a Bayern Munich player from 1964 to 1977. Der Kaiser helped Bayern Munich to win three European Cups during his time at the club.
Franz Beckenbauer had already established himself as a legend of German football and he sealed it when he led West Germany to another World Cup title on Italian soil. Franz Beckenbauer and West Germany beat defending champions Argentina 1-0 in the final courtesy the penalty from defender Andreas Brehme to win the 1990 FIFA World Cup tournament in the European nation of Italy. It was the third World Cup title for West Germany, now known as the German national team. Franz Beckenbauer had earlier won the second World Cup title for West Germany as a player some 16 years earlier at the World Cup tournament on home soil. At the end of the tournament in Italy, he became the first man to win the World Cup as a player and as a manager.
Tags: Franz Beckenbauer